Adopting Cats, Dogs and other Small Pets
The Dogs, cats and other pets advertised for adoption here and elsewhere on this site may have been advertised by private individuals or Pet Rescue or Pet Welfare organisations. In each case, the current owners-keepers will have their own procedure for adoption. Please remember that in the majority of cases, adoption enquiries are not handled by telephone, and may require a certain amount of form filling and a house visit. If you are interested in adopting a dog, cat or other small pet, you will generally need to make an appointment to view the animal.
Adoptable Dogs, Robbie, Camberley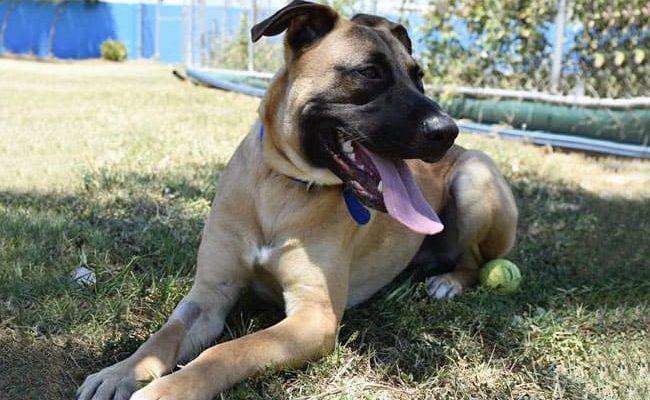 Name :Robbie
Breed :German Shepherd / Bull Terrier (Mixed)
Age :18 months
Sex :Male
Intact :No
Location :Camberley
Information about Robbie
Robbie is a German Shepherd / Bull Terrier cross and comes from an unfortunate background. He's rather shy and isn't happy around children, as if he's had a bad experience with them in the past. He's not aggressive, but tends to run away whenever children are too close. He's in need of a quiet, calm home where he can get the attention and care he needs. He's superbly behaved on a lead and rarely strays far when released. We've only had him a short time but he appears to be very well socialised with other dogs and plays well.
He tends to pine a bit when left alone for too long, so he's probably best suited to a home where someone is around for large parts of the day. He has been chipped, inspected and is up to date on all jabs.

Location and Contact Details
Making Adoption Enquiries
If you are interested in giving a new home to Robbie, please get in touch with the owners-keepers today. Pets can be listed for adoption by private individuals, animal charities or voluntary groups, and each will have different contact preferences and adoption procedures.
Depending on their preferences, the current keepers may prefer telephone or email enquiries in the first instance, or may provide an address where you can visit and see their pets and discuss adoption in person. If a telephone number or address was provided, click the 'telephone' tab and you will find it there, along with any comments on when to phone, etc. If the keepers are willing to accept email enquiries, there will be a contact form on the 'Email Enquiries' tab which you can use to get in touch.
General Information about Robbie:
Current Location - County/Region: Hampshire
Current Location - Town: Camberley
Who to contact: Robbie was listed byJohn, a private advertiser
Viewing address: Please get in touch by email in the first instance.
General Viewing Notes All our pets are homed with foster carers in different areas in South-east England, so viewing is strictly by appointment only.
Telephone Enquiries
Note that due to limited manpower, animal rescue charities and voluntary groups may not always be able to respond to telephone calls, so please be patient. When calling private individuals, please consider the time when ringing! In any case, do not call the number shown unless you want to enquire about adopting the pet listed here.
Contact Tel No: None provided.
Email Enquiries
Contact Email - Click below
https://adoptable.co.uk/adopt/wp-content/uploads/formidable/14/robbie.jpg
450
650
Bee Southern Rescue
https://adoptable.co.uk/adopt/wp-content/uploads/2016/10/adoptable-logo-4-600.jpg
Bee Southern Rescue
2016-11-06 00:00:00
2019-03-17 10:00:36
Adoptable Dogs, Robbie in Camberley