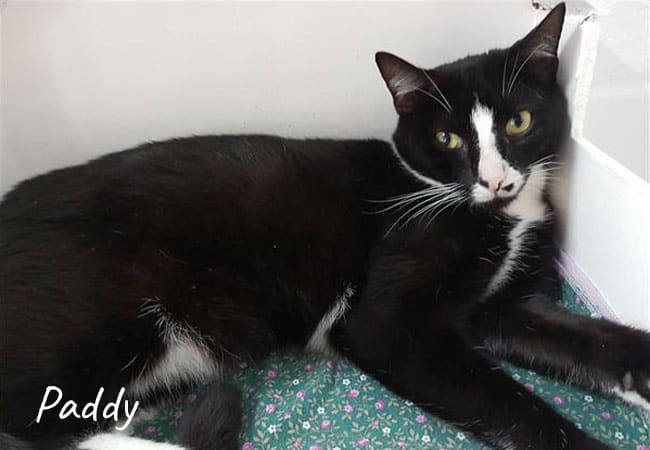 Can you adopt Paddy?
Name : Paddy
Breed : Short Hair (Mixed)
Age : 15 months
Sex : Male
Intact : No
Town/City : Dartford
County : Kent
Information about Paddy
Paddy is a young male, very playful, forever hunting imaginary food and occasionally playing the cupboard explorer. Give him a box and he'll be as happy as can be, until he decides to wrestle it into submission. He's a very confident cat, surrendered very sadly by his previous owner, and has a very strong character. He isn't a particularly affectionate cat and doesn't like too much petting, though the occasional stroke goes down well. When he wants to be with you he'll come and sit on your lap and stay there unless you make a lot of fuss. He's reasonably friendly with other cats, but he's going through that 'teenage' stage and can be difficult on random occasions. He's fine with dogs, having lived with two in his previous life!
Paddy is perfectly healthy, has been microchipped and is up to date on all jabs.
Location and Contact Details
If you are interested in giving a new home to Paddy, please get in touch with the owners-keepers today. Pets can be listed for adoption by private individuals, animal charities or voluntary groups, and each will have different contact preferences and adoption procedures.
Depending on their preferences, the current keepers may prefer telephone or email enquiries in the first instance, or may provide an address where you can visit and see their pets and discuss adoption in person. If a telephone number or address was provided, click the 'telephone' tab and you will find it there, along with any comments on when to phone, etc. If the keepers are willing to accept email enquiries, there will be a contact form on the 'Email Enquiries' tab which you can use to get in touch.
General Information about Paddy:
Current Location:
Dartford, Kent
Who to contact:
Paddy was listed by Sal, a private advertiser.
Viewing address: Please contact us by email in the first instance
Note that due to limited manpower, animal rescue charities and voluntary groups may not always be able to respond to telephone calls, so please be patient. When calling private individuals, please consider the time when ringing! In any case, do not call the number shown unless you want to enquire about adopting the pet listed here.
Contact Tel No: None provided.