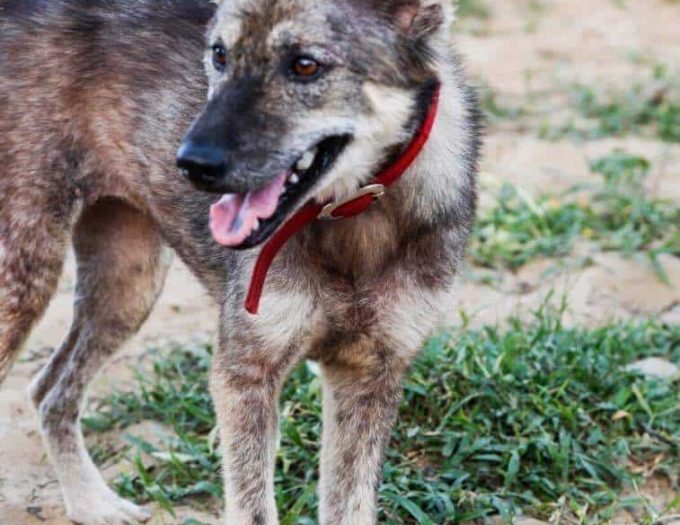 Can you adopt Marlin?
Name : Marlin
Breed : Mixed breed
Age : 18 months
Sex : Female
Intact : Yes
Town/City : Bournemouth
County : Dorset
Information about Marlin
This is Marlin. She is a One and a half year old mix breed female with a beautiful soul. Marlin has experienced an extremely traumatic life, where she was badly abused and then left to die, chained to the back of a garden. When somebody found her, she was completely emaciated, covered in blood and absolutely terrified of people. They took her off the man who was keeping her in these horrific conditions and brought her to the rescue organisation where myself and my partner were working at the time.
She started to recover physically after a short time with lots of veterinary care and treatment, but has taken a lot longer to recover mentally. With a lot of time, patience and love, Marlin slowly started to trust us and we gradually started to see her blossom into a happy and healthy dog. (With the help of the other dogs at the shelter).
After forming such a deep bond with Marlin, we decided to take her out of the shelter environment so that she could start to experience the big wide world for the first time.
As much as we would love to keep her, our lifestyle just isn't suitable for her so we are desperate to see her get the happy ever after that she deserves.
After experiencing so much trauma and abuse in the past, Marlin is still recovering mentally and emotionally. It still takes a long time to let new people cuddle her so we would like her to go to someone who has lots of experience with dogs who is prepared to put a bit more time into forming a trusting relationship. She needs somebody that will be very patient and gentle with her, but although it will take her a bit longer to trust, believe me once she does, she will be your best friend for life and worship the ground you walk on.
She gets on extremely well with other dogs and absolutely loves to play (although is still figuring out how to). Food is definitely the way to her heart, and though she is used to living with both myself and my partner and has formed a bond with us both, she tends to feel less nervous with women, which is probably something to do with the man that used to own her. She just takes slightly longer to warm to men at the moment, but is getting more and more confident every day.
After suffering with a re-occurring skin condition, she has finally fought it off but her fur is still in the process of growing out so it will be longer than it is in the photos.
If you think you are a suitable match for this wonderful girl, please don't hesitate to contact me with any questions. I can provide more photos/videos and info. Ultimately, she just needs somebody who will give her endless amounts of love, kindness and a new lease of life, with a family who adores her.
If you are interested, we'd love to hear a bit about you and your previous experience with dogs/ your lifestyle etc.
She is fully vaccinated with record sheet and microchipped and will be ready for her new forever home in March.
Thank you,
Amelia
Location and Contact Details
If you are interested in giving a new home to Marlin, please get in touch with the owners-keepers today. Pets can be listed for adoption by private individuals, animal charities or voluntary groups, and each will have different contact preferences and adoption procedures.
Depending on their preferences, the current keepers may prefer telephone or email enquiries in the first instance, or may provide an address where you can visit and see their pets and discuss adoption in person. If a telephone number or address was provided, click the 'telephone' tab and you will find it there, along with any comments on when to phone, etc. If the keepers are willing to accept email enquiries, there will be a contact form on the 'Email Enquiries' tab which you can use to get in touch.
General Information about Marlin:
Current Location:
Bournemouth, Dorset
Who to contact:
Marlin was listed by Amelia, a private advertiser.
Viewing address: Not given at this stage - please contact by telephone or email in the first instance.
Note that due to limited manpower, animal rescue charities and voluntary groups may not always be able to respond to telephone calls, so please be patient. When calling private individuals, please consider the time when ringing! In any case, do not call the number shown unless you want to enquire about adopting the pet listed here.
Contact Tel No: None provided.