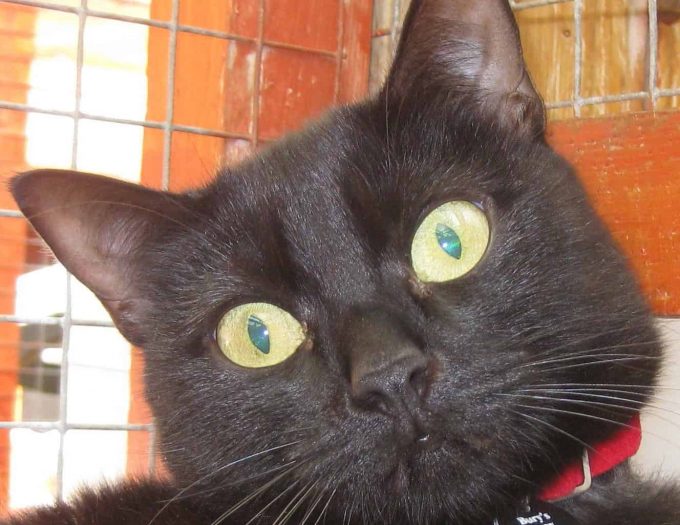 Can you adopt Cleo?
Name : Cleo
Breed : DSH
Age : 4
Sex : Female
Intact : No
Town/City : Bury St Edmunds
County : Suffolk
Website : http://www.burystraycatfund.co.uk/
Information about Cleo
Cleo has been quite a challenge. She originally came in as a stray kitten from Stanton in 2012. We homed her and thought she was doing well but it turns out that she had problems "hitting the target area" with the litter trays from the start and by last May the situation had got so bad that we had to take her back. When she first came in she was using the trays perfectly for the first couple of weeks but then she got very constipated and after that she started doing hard "rabbit poos" randomly in the pen. She has had exhaustive tests at the vets which couldn't find anything wrong but changing her food and adding a laxative (which we will pay for if we find a home for her) has fixed the problem. She is now four years old, she is quite nervous in new situations but she is very affectionate when she feels secure and we'd love there to be a happy ending for her.
Location and Contact Details
If you are interested in giving a new home to Cleo, please get in touch with the owners-keepers today. Pets can be listed for adoption by private individuals, animal charities or voluntary groups, and each will have different contact preferences and adoption procedures.
Depending on their preferences, the current keepers may prefer telephone or email enquiries in the first instance, or may provide an address where you can visit and see their pets and discuss adoption in person. If a telephone number or address was provided, click the 'telephone' tab and you will find it there, along with any comments on when to phone, etc. If the keepers are willing to accept email enquiries, there will be a contact form on the 'Email Enquiries' tab which you can use to get in touch.
General Information about Cleo:
Current Location:
Bury St Edmunds, Suffolk
Who to contact:
Cleo was listed by Anyone, a private advertiser.
Viewing address: Friars Orchard, Lt Whelnetham, IP30 0UH
Note that due to limited manpower, animal rescue charities and voluntary groups may not always be able to respond to telephone calls, so please be patient. When calling private individuals, please consider the time when ringing! In any case, do not call the number shown unless you want to enquire about adopting the pet listed here.
Contact Tel No 01284 388455
Sorry, email not available