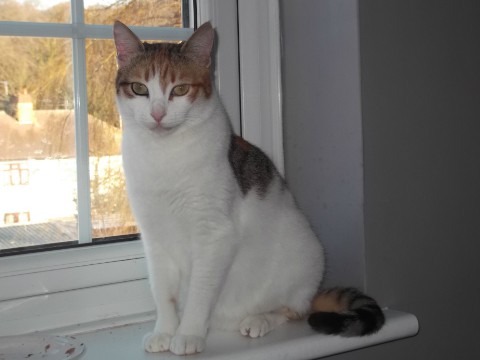 Can you adopt Gina?
Name : Gina
Age : uncertain
Sex : Female
Intact : No
Town/City : Greenwich
County : London – Greater London
Website : http://www.catcuddles.org.uk/
Information about Gina
Gina arrived at CatCuddles as an extremely shy cat, showing some of the behaviour of a feral cat, often hiding or running from people and being afraid of being touched. She is currently being looked after by experienced foster carers where she is gradually being rehabilitated – she has come a long way already. She still won't stay still and allow herself to be stroked, but will feed from a hand, which is a huge improvement, and is happy to play with string and spend time with people – on her own terms. She also appears to interact well with other cats and enjoy their company.
It is still going to take time and only in the long-term, in a forever home, will we see a full transformation.
Gina is going to need a very special adult-only home with experienced adopters who are understanding, open minded, and out to change a life. A rural home may be ideal for her with eventual access to a safe outdoor space for her to explore. She may never be a cuddly 'lap cat', but like with most cats that come to know the kindness of humans late in life, once the trust and the bond are forged, you will be having a loyal friend for life.
Location and Contact Details
If you are interested in giving a new home to Gina, please get in touch with the owners-keepers today. Pets can be listed for adoption by private individuals, animal charities or voluntary groups, and each will have different contact preferences and adoption procedures.
Depending on their preferences, the current keepers may prefer telephone or email enquiries in the first instance, or may provide an address where you can visit and see their pets and discuss adoption in person. If a telephone number or address was provided, click the 'telephone' tab and you will find it there, along with any comments on when to phone, etc. If the keepers are willing to accept email enquiries, there will be a contact form on the 'Email Enquiries' tab which you can use to get in touch.
General Information about Gina:
Current Location:
Greenwich, London – Greater London
Who to contact:
Gina was listed by
Viewing address: Not given at this stage - please contact by telephone or email in the first instance.
Note that due to limited manpower, animal rescue charities and voluntary groups may not always be able to respond to telephone calls, so please be patient. When calling private individuals, please consider the time when ringing! In any case, do not call the number shown unless you want to enquire about adopting the pet listed here.
Contact Tel No 02081 232230