Adopting Cats, Dogs and other Small Pets
The Dogs, cats and other pets advertised for adoption here and elsewhere on this site may have been advertised by private individuals or Pet Rescue or Pet Welfare organisations. In each case, the current owners-keepers will have their own procedure for adoption. Please remember that in the majority of cases, adoption enquiries are not handled by telephone, and may require a certain amount of form filling and a house visit. If you are interested in adopting a dog, cat or other small pet, you will generally need to make an appointment to view the animal.
Adoptable Dogs, Penny, Hastings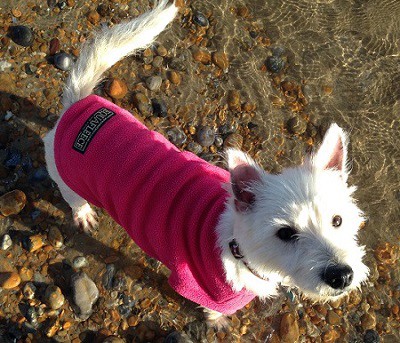 Name :Penny
Breed :West Highland Terrier
Age :3 years
Sex :Female
Intact :No
Location :Hastings
Website : http://www.prodogsdirect.org.uk
Information about Penny
Penny is a young female West Highland Terrier, almost 3 years old at the time of writing. Penny had an untreated flea allergy which left her skin very sore and she has lost quite a bit of her fur, but this is now being treated and is coming along well, but in these cases it takes a little time before the coat recovers fully. She was a bit underweight when she arrived but now has a great zest for life and loves her food.
Penny is a very smart dog and people-oriented. She gets on well when meeting and greeting other dogs and is learning how to behave walking on a lead. Her recall is good too, but she will need to continue her training with her new owners, who will need to be around most of the time.
In a home setting, Penny gets on well with calm dogs who can take the lead. She could go to a home with experienced owners who already have a confident dog, and also a home where she would be the only dog. However, she would be better suited to a home without children, though a older (more mature and understanding) teenagers may be considered. Penny eats and sleeps well in the home and would make a super companion. She is still a young dog, so she'll need plenty of opportunity for outdoor exercise. Penny is house-trained.
Before being allowed to leave, Penny will be neutered, as well as being vaccinated, micro chipped and up to date with flea and worming treatments. She is currently on foster near Hastings, East Sussex. For further details regarding dogs available from Pro Dogs Direct please contact us by email or visit our website to complete an online application form. All potential adopters are home-checked and set donation apply for all dogs.

Location and Contact Details
Making Adoption Enquiries
If you are interested in giving a new home to Penny, please get in touch with the owners-keepers today. Pets can be listed for adoption by private individuals, animal charities or voluntary groups, and each will have different contact preferences and adoption procedures.
Depending on their preferences, the current keepers may prefer telephone or email enquiries in the first instance, or may provide an address where you can visit and see their pets and discuss adoption in person. If a telephone number or address was provided, click the 'telephone' tab and you will find it there, along with any comments on when to phone, etc. If the keepers are willing to accept email enquiries, there will be a contact form on the 'Email Enquiries' tab which you can use to get in touch.
General Information about Penny:
Current Location - County/Region: Sussex
Current Location - Town: Hastings
Who to contact: Penny was listed byDonna, a private advertiser
Viewing address: Not given at this stage - please contact by telephone or email in the first instance.
Telephone Enquiries
Note that due to limited manpower, animal rescue charities and voluntary groups may not always be able to respond to telephone calls, so please be patient. When calling private individuals, please consider the time when ringing! In any case, do not call the number shown unless you want to enquire about adopting the pet listed here.
Contact Tel No 07766 021 465
Email Enquiries
Contact Email - Click below
https://adoptable.co.uk/adopt/wp-content/uploads/formidable/14/penny-39.jpg
343
400
Bee Southern Rescue
https://adoptable.co.uk/adopt/wp-content/uploads/2016/10/adoptable-logo-4-600.jpg
Bee Southern Rescue
2017-01-12 00:00:00
2019-03-17 09:57:02
Adoptable Dogs, Penny in Hastings