Adopting Cats, Dogs and other Small Pets
The Dogs, cats and other pets advertised for adoption here and elsewhere on this site may have been advertised by private individuals or Pet Rescue or Pet Welfare organisations. In each case, the current owners-keepers will have their own procedure for adoption. Please remember that in the majority of cases, adoption enquiries are not handled by telephone, and may require a certain amount of form filling and a house visit. If you are interested in adopting a dog, cat or other small pet, you will generally need to make an appointment to view the animal.
Adoptable Dogs, Rosie, Greatstone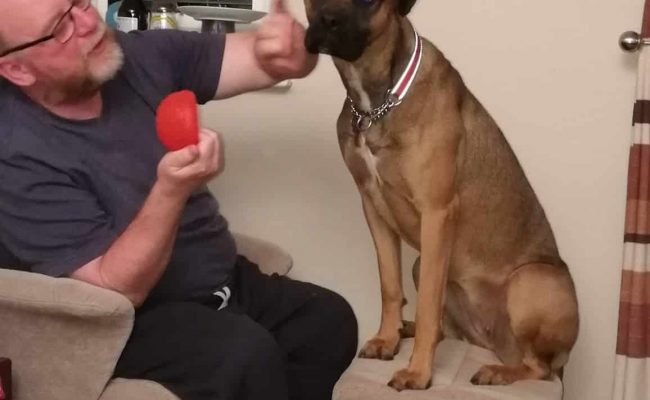 Name :Rosie
Breed :Bull Mastiff x
Age :20 months
Sex :Female
Intact :No
Location :Greatstone
Information about Rosie
Rosie is a boisterous Bull Mastiff x large breed puppy. She had 6 owners before we took her on but unfortunately, we have found she is too much for us. She needs a home with someone who is used to large breed puppies as she has obviously missed out on her litter mates helping to break her of bad habits like hard mouthing, jumping up and lunging on the lead. She generally walks quite well on the lead although she is very strong. She has minimal recall so can only be let off the lead in a confined area. We had her spayed at a year old, she is microchipped, house trained and in good general health. She still likes to prune and eat any garden shrubbery and will destroy fences unless they are strongly dog proofed. We have had her for just over a year and love her dearly but feel we are not the right people to give her the full, active life she needs. She has got bite history but it was partly my own fault as I tried to take a wrapped chocolate sweet from her and she snapped at me and caught my hand and arm, not seriously I might add, but I am obliged to let anyone interested know the full facts. Look forward to anyone who thinks they could give Rosie the love and attention she needs.

Location and Contact Details
Making Adoption Enquiries
If you are interested in giving a new home to Rosie, please get in touch with the owners-keepers today. Pets can be listed for adoption by private individuals, animal charities or voluntary groups, and each will have different contact preferences and adoption procedures.
Depending on their preferences, the current keepers may prefer telephone or email enquiries in the first instance, or may provide an address where you can visit and see their pets and discuss adoption in person. If a telephone number or address was provided, click the 'telephone' tab and you will find it there, along with any comments on when to phone, etc. If the keepers are willing to accept email enquiries, there will be a contact form on the 'Email Enquiries' tab which you can use to get in touch.
General Information about Rosie:
Current Location - County/Region: Kent
Current Location - Town: Greatstone
Who to contact: Rosie was listed byMrs Kay Green, a private advertiser
Viewing address: Not given at this stage - please contact by telephone or email in the first instance.
Telephone Enquiries
Note that due to limited manpower, animal rescue charities and voluntary groups may not always be able to respond to telephone calls, so please be patient. When calling private individuals, please consider the time when ringing! In any case, do not call the number shown unless you want to enquire about adopting the pet listed here.
Contact Tel No 07964 202787
Email Enquiries
Contact Email - Click below
https://adoptable.co.uk/adopt/wp-content/uploads/formidable/21/IMG_20190226_215511.jpg
1542
1156
Kay Green Greatstone
https://adoptable.co.uk/adopt/wp-content/uploads/2016/10/adoptable-logo-4-600.jpg
Kay Green Greatstone
2019-11-24 19:34:21
2019-11-24 19:34:22
Adoptable Dogs, Rosie in Greatstone