Eddie Vedder, Alicante, Spain
Can you adopt Eddie Vedder?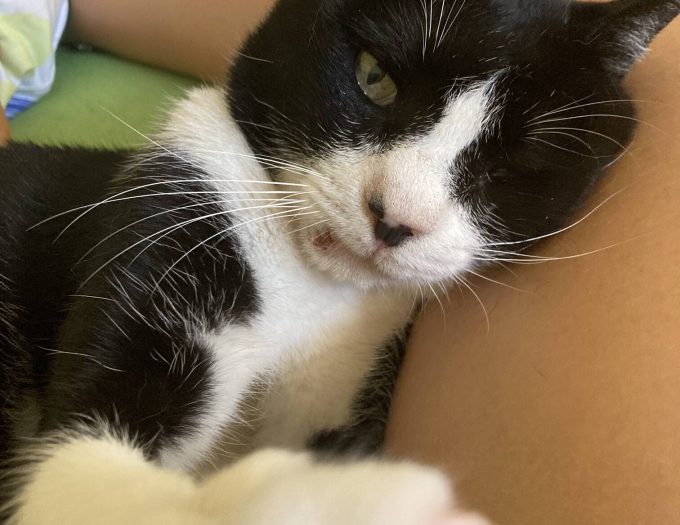 Can you adopt Eddie Vedder?
Name : Eddie Vedder
Age : 6/7
Sex : Male
Intact : No
Town/City : Alicante, Spain
County : West Midlands
Information about Eddie Vedder
Vedder is a beautiful adult cat who has suffered a lot on the streets. We rescued him here in Spain in February after years of being an abandoned cat and having been shot in the head. Surprisingly he survived, and although he's still got a tiny bullet in the head (vet said taking it out was too dangerous and it is not causing him any damage or pain), sadly his lower jaw is beyond repair and he is missing most of his teeth, that's why it is hard to tell his age. He does however eat well and is a happy healthy cat. He has been neutered and vaccinated, and tested for a cat's leukemia and has given negative.
He is beautiful with human beings, however he doesn't get on with any of our three cats. We have tried everything, we are working with experts, and taking the advice we've been given, we are giving them all Bach's flowers drops, we have tried feeliway… nothing works! and the fights with our home cats are tremendous, as a consequence our cats are too scared of him now. Experts have told us that from his behaviour, he must have been a home cat, who was then abandoned, and he must have survived by fighting off any other cat, so that is exactly what he does with our three cats.
He is, as you can see in the photo, an incredibly loving cat who never leaves you alone, he wants to be where you are and if you leave the room, he'll follow you wherever you go. He doesn't want to be abandoned again!
We need to find him a home but here in Spain we are finding it impossible to find anybody interested in him. He truly is a beautiful cat and has suffered too much to spend the day locked in a room. We both work, so he spends the day alone, we can only get him out a couple of hour max a day, and he hates being locked in a room.
Please help us find him a home, he deserves to be able to give all the love he is willing to give.
He would be best suited for a house where he is alone, and he is not interested in leaving the house. He has had such a bad life outside, that one day, the cleaner left a window in his room open and the poor thing was on the windowsill hours later, he just wanted some sun.
The cat is in Spain but I have a friend in Birmingham I can take the cat to.
PLEASE HELP US TO FIND HIM A LOVING HOUSE WHERE HE DOESN'T HAVE TO BE LOCKED IN A ROOM.
Location and Contact Details
If you are interested in giving a new home to Eddie Vedder, please get in touch with the owners-keepers today. Pets can be listed for adoption by private individuals, animal charities or voluntary groups, and each will have different contact preferences and adoption procedures.
Depending on their preferences, the current keepers may prefer telephone or email enquiries in the first instance, or may provide an address where you can visit and see their pets and discuss adoption in person. If a telephone number or address was provided, click the 'telephone' tab and you will find it there, along with any comments on when to phone, etc. If the keepers are willing to accept email enquiries, there will be a contact form on the 'Email Enquiries' tab which you can use to get in touch.
General Information about Eddie Vedder:
Current Location:
Alicante, Spain, West Midlands
Who to contact:
Eddie Vedder was listed by Margarita, a private advertiser.
Viewing address: Not given at this stage - please contact by telephone or email in the first instance.
Note that due to limited manpower, animal rescue charities and voluntary groups may not always be able to respond to telephone calls, so please be patient. When calling private individuals, please consider the time when ringing! In any case, do not call the number shown unless you want to enquire about adopting the pet listed here.
Contact Tel No 0034 671355973