Marvel and Nagisa, Glasgow
Can you adopt Marvel and Nagisa?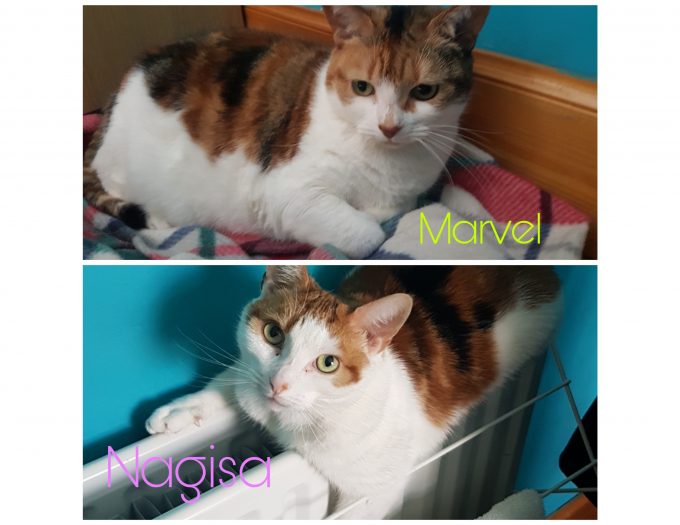 Can you adopt Marvel and Nagisa?
Name : Marvel and Nagisa
Age : 7
Sex : Female
Intact : No
Town/City : Glasgow
County : Strathclyde
Information about Marvel and Nagisa
Marvel and Nagisa (more often called 'Naggie') are sisters who have been together since birth. For this reason we would prefer for them to stay together. They are 7 years old and their birthday is January 17th. They are house cats who were both spayed at 6 months old and have had annual health check-ups and booster vaccines. They are gorgeous happy and cuddly cats who can be a quite timid at first so need someone who is willing to be patient with them to win them over. When we first got them they were already 5 months old and for the first few weeks they hid under the couch but since then they have become very loving companions. Sadly we find we do not have adequate time to care for them and so they are looking for someone who can spend at least a few hours a day with them – they are happy to be left alone and keep themselves occupied but they love to cuddle up on the couch in the evenings or follow you around being nosey. We also have a dog and for this reason they have spent most of the last two years upstairs as they cannot quite relax around her. This is unfair on them as they would like to spend more time with us and run around the house like they could in a dog-free home. They are getting older but this has only served to calm them down slightly – they still have plenty of energy and frequently run around the house at night. Neither of them have any health conditions apart from some dental issues (Nagisa had 2 teeth removed a couple of years ago) but we have since switched them to oral care dry food which has improved their teeth. Marvel is slightly overweight because she loves this food (neither of them care for treats except some chicken on a Sunday) and ideally her new owner would be able to separate the two at meal times to get this under control. Marvel loves to cuddle up on a blanket or on a bed, whilst Nagisa prefers to sleep in a hidey hole or in her cat tree which she loves to play on. They are both very fun playful animals but Marvel does prefer the quiet life. Marvel also enjoys putting on her harness and walking around the garden or joining us to sit on the door step, but Nagisa finds outside quite scary. I only want to give these girls away if I can find a really good home for them, so I would have to ask several questions and have a meeting first before parting with them. I'm happy to answer any questions by text on 07506742621.
Location and Contact Details
If you are interested in giving a new home to Marvel and Nagisa, please get in touch with the owners-keepers today. Pets can be listed for adoption by private individuals, animal charities or voluntary groups, and each will have different contact preferences and adoption procedures.
Depending on their preferences, the current keepers may prefer telephone or email enquiries in the first instance, or may provide an address where you can visit and see their pets and discuss adoption in person. If a telephone number or address was provided, click the 'telephone' tab and you will find it there, along with any comments on when to phone, etc. If the keepers are willing to accept email enquiries, there will be a contact form on the 'Email Enquiries' tab which you can use to get in touch.
General Information about Marvel and Nagisa:
Current Location:
Glasgow, Strathclyde
Who to contact:
Marvel and Nagisa was listed by Mae Sweeney, a private advertiser.
Viewing address: Not given at this stage - please contact by telephone or email in the first instance.
Note that due to limited manpower, animal rescue charities and voluntary groups may not always be able to respond to telephone calls, so please be patient. When calling private individuals, please consider the time when ringing! In any case, do not call the number shown unless you want to enquire about adopting the pet listed here.
Contact Tel No 07506742621