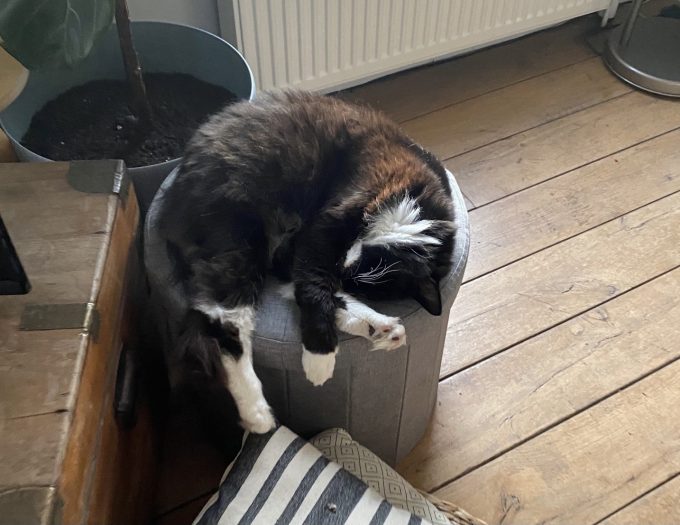 Can you adopt Tom?
Name : Tom
Age : 11
Sex : Male
Intact : No
Town/City : De Beauvoir Town
County : London – Greater London
Information about Tom
Tom is a lovable easy going boy. He came to us as a foster during Covid and unfortunately as we are moving, we are unable to keep him. Tom loves to nap all day – usually on his favourite chair or under a bed when it's too hot. He loves sunbathing and sitting on your lap for pats.
Tom is well experienced with using his litter tray (no issues) and we've put him on Purina kibble that's smaller in size for help with chewing (he only has 3 fangs left). He has a slight allergy to dust so does sneeze on occasion but nothing major. Think he would love to explore the outdoors more than he does now, but currently really enjoys laying outside on our balcony when it's warm.
He really is a gorgeous pet to have at home, so easy, and keen to be around his favourite people when he's looking for affection. Also good with strangers after a little hiding to start with. Would recommend he be the only cat in his new home though – he enjoys the solo life. Could live with older children.
Location and Contact Details
If you are interested in giving a new home to Tom, please get in touch with the owners-keepers today. Pets can be listed for adoption by private individuals, animal charities or voluntary groups, and each will have different contact preferences and adoption procedures.
Depending on their preferences, the current keepers may prefer telephone or email enquiries in the first instance, or may provide an address where you can visit and see their pets and discuss adoption in person. If a telephone number or address was provided, click the 'telephone' tab and you will find it there, along with any comments on when to phone, etc. If the keepers are willing to accept email enquiries, there will be a contact form on the 'Email Enquiries' tab which you can use to get in touch.
General Information about Tom:
Current Location:
De Beauvoir Town, London – Greater London
Who to contact:
Tom was listed by Olivia, a private advertiser.
Viewing address: Not given at this stage - please contact by telephone or email in the first instance.
Note that due to limited manpower, animal rescue charities and voluntary groups may not always be able to respond to telephone calls, so please be patient. When calling private individuals, please consider the time when ringing! In any case, do not call the number shown unless you want to enquire about adopting the pet listed here.
Contact Tel No: None provided.