Bolan, Kingston upon Hull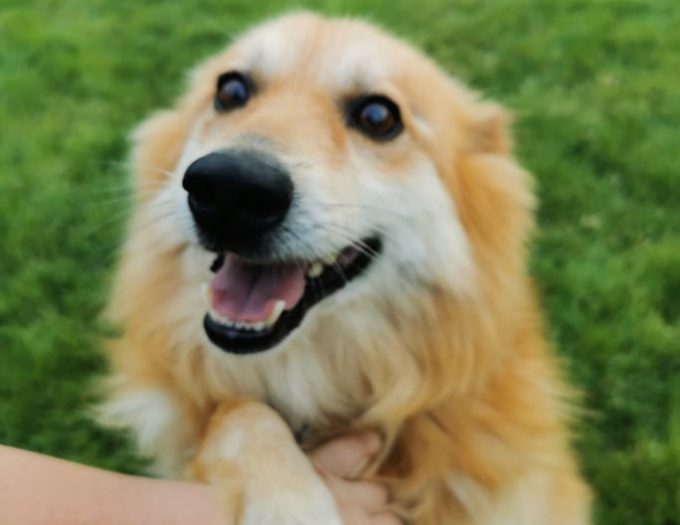 Can you adopt Bolan?
Name : Bolan
Breed : Medium Mixed Breed (Collie Type)
Age : 6yrs
Sex : Male
Intact : No
Town/City : Kingston upon Hull
County : East Riding
Listed by : Oakwood Dog Rescue
Information about Bolan
6 years, Male, Medium Mixed Breed (Collie size)
Bolan is our foxy lad that has a lot of love to give!
He is a submissive dog and can crouch down when touched but once he is offered a treat he becomes a bouncy pup! He does need working with as he can jump up and puppy-mouth, he needs to learn some boundaries but he has the makings of a lovely dog.
He is very wary of his back being touched and can become very uncomfortable so he needs a patient family that will allow him to slowly get used to touch.
He is not currently walking on a lead but he is showing potential and with some practice will get there.
Bolan can mix with some calm dogs that are not bothered about him but he can be protective of his people so must live as an only dog.
Bolan's bright and loving personality will put a smile on your face. He's a gorgeous dog that deserves a chance.
Home Needed:
Kids: Over 16yrs
Dogs: No – could potentially socialise with calm dogs
Cats: No
Fencing: 5ft minimum
Location and Contact Details
If you are interested in giving a new home to Bolan, please get in touch with the owners-keepers today. Pets can be listed for adoption by private individuals, animal charities or voluntary groups, and each will have different contact preferences and adoption procedures.
Depending on their preferences, the current keepers may prefer telephone or email enquiries in the first instance, or may provide an address where you can visit and see their pets and discuss adoption in person. If a telephone number or address was provided, click the 'telephone' tab and you will find it there, along with any comments on when to phone, etc. If the keepers are willing to accept email enquiries, there will be a contact form on the 'Email Enquiries' tab which you can use to get in touch.
General Information about Bolan:
Current Location:
Kingston upon Hull, East Riding
Who to contact:
Bolan was listed by Oakwood Dog Rescue - ask for Steph Towse - Adoption Manager
Viewing address: 17D-E Bergen Way
Note that due to limited manpower, animal rescue charities and voluntary groups may not always be able to respond to telephone calls, so please be patient. When calling private individuals, please consider the time when ringing! In any case, do not call the number shown unless you want to enquire about adopting the pet listed here.
Contact Tel No 01482823555