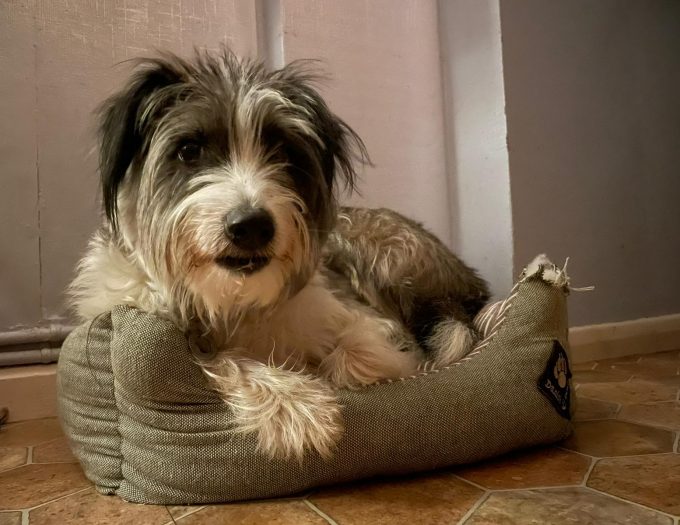 Can you adopt Freddie?
Name : Freddie
Breed : Mix - Terrier Type possibly a bit lurcher
Age : 7
Sex : Male
Intact : No
Town/City : Broadway
County : Worcestershire
Information about Freddie
I have owned Freddie since he was about 6 weeks old, so you can imagine putting him up for rehoming hasn't been an easy choice. He was dumped in a bin bag and locked in a shed as a puppy as he had distemper (a viral disease, which he has recovered from) so wasn't worth anything to the breeder.
Freddie is a great dog, and has many qualities that are incredibly desirable and are rare to come by. Take him to the pub and you will be everyones friend. In fact, we joke that his dream is to just be set free in a pub garden. He just wants to go up to everyone and loves a good fuss. He is fully house trained and will definitely let you know if the postman has been or anyone has knocked on the door. He has selective recall, as this will depend a little bit on what else is going on, he is a terrier after all! He adores a fuss and cuddle, and is brilliant in the car. He has a stomach of a true mongrel and can literally eat anything and seem to be ok, he even ate a wasp the other day and showed no signs of it effecting him. He currently lives with another dog, chickens and cats. He doesn't bother the cats indoors, but will have a tendency to chase outside. I think he is scared of the chickens.
However, now for the negatives the reasons why the decision has come to rehome him. The main reason is he has serious Fear Of Missing Out, some people call this seperation anxiety, however, with Freddie he doesn't really bond with anyone inparticular, he just hates missing out. We have managed this by keeping him in the car/van when going out, or asking friends to have him, which he is delighted with, as he then isn't missing out. However, if you leave him at home, he will constantly bark, and get himself really wound up. Even if you just pop out for 5 minutes. He is not brilliant on a lead, but much better on a harness. He is up for doing either a 10mile hike up a mountain, swim in the ocean or just sit around watching TV for the day. As long as he is with someone, that is what is most important to Freddie.
We also have another dog, which Freddie struggles with. If you throw the ball Freddie will go more for the dog than the ball, mainly wanting to hump the dog, but has been seen to attempt to nip. If you see another dog on a walk, he tends to run up to their face, yap a few times and then run back to you, having I assume told them all the latest news. Freddie also really struggles if you want to give a fuss to the other dog, and can't understand why it wouldn't be him who is getting all the attention. He does try and dominate the other dog and humans by humping their leg, and I think all a bit confused by where his place in the pack is. Please also be aware, he doesn't have great teeth, hence his breath isn't the most desirable, we give him the odd carrot, which can help, but it can be a side effect of having suffered from distemper, of not having great teeth.
Freddie is a little dog in size, but big dog in character. This has not been an easy thing to do, and we have been managing both dogs for 3 years now in the hope of resolving it, but it really isn't fair on them both and would only want the very best home for him. We are personally listing him, to ensure he goes to the right home, rather than rushing anything, and know he would not cope well in kennels.
I would highlight though that he can be strong on the lead, so would say I you need to be physically up for holding onto him.
Location and Contact Details
If you are interested in giving a new home to Freddie, please get in touch with the owners-keepers today. Pets can be listed for adoption by private individuals, animal charities or voluntary groups, and each will have different contact preferences and adoption procedures.
Depending on their preferences, the current keepers may prefer telephone or email enquiries in the first instance, or may provide an address where you can visit and see their pets and discuss adoption in person. If a telephone number or address was provided, click the 'telephone' tab and you will find it there, along with any comments on when to phone, etc. If the keepers are willing to accept email enquiries, there will be a contact form on the 'Email Enquiries' tab which you can use to get in touch.
General Information about Freddie:
Current Location:
Broadway, Worcestershire
Who to contact:
Freddie was listed by Rob G, a private advertiser.
Viewing address: Not given at this stage - please contact by telephone or email in the first instance.
Note that due to limited manpower, animal rescue charities and voluntary groups may not always be able to respond to telephone calls, so please be patient. When calling private individuals, please consider the time when ringing! In any case, do not call the number shown unless you want to enquire about adopting the pet listed here.
Contact Tel No: None provided.