Jeffrey, Henley on Thames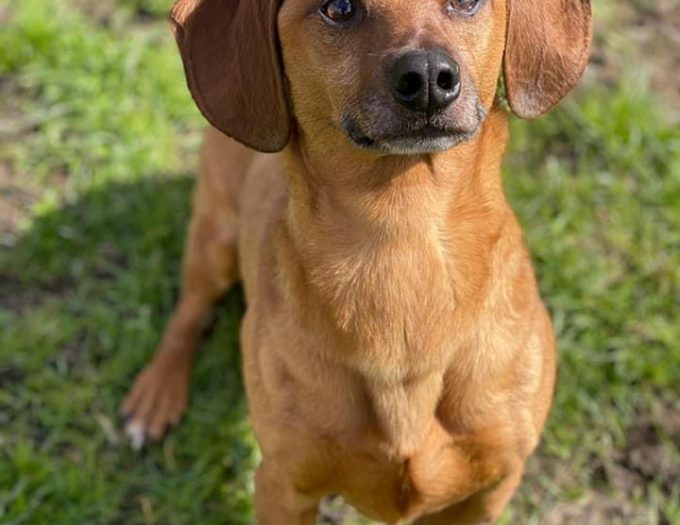 Can you adopt Jeffrey?
Name : Jeffrey
Breed : Dachshund cross
Age : 5
Sex : Male
Intact : No
Town/City : Henley on Thames
County : Oxfordshire
Information about Jeffrey
Jeffrey is a short haired, tan Dachshund cross (probably Jack Russell) with soft velvet ears made for stroking. He is a happy friendly dog who is equally happy on a long walk in the countryside or curled up on the sofa.
Unfortunately, due to no fault of his own, Jeffrey has a bite history and cannot live with children or a household where children visit regularly. He must be muzzled and on a fixed length lead when in public. Due to the requirement of a lead in public a home with a larger garden would be preferable.
He is well socialised with other dogs, though can be intimidated by over enthusiastic larger breeds. He tends to prefer bitches to other dogs.
For more information please contact me via email
Location and Contact Details
If you are interested in giving a new home to Jeffrey, please get in touch with the owners-keepers today. Pets can be listed for adoption by private individuals, animal charities or voluntary groups, and each will have different contact preferences and adoption procedures.
Depending on their preferences, the current keepers may prefer telephone or email enquiries in the first instance, or may provide an address where you can visit and see their pets and discuss adoption in person. If a telephone number or address was provided, click the 'telephone' tab and you will find it there, along with any comments on when to phone, etc. If the keepers are willing to accept email enquiries, there will be a contact form on the 'Email Enquiries' tab which you can use to get in touch.
General Information about Jeffrey:
Current Location:
Henley on Thames, Oxfordshire
Who to contact:
Jeffrey was listed by Emily, a private advertiser.
Viewing address: Not given at this stage - please contact by telephone or email in the first instance.
Note that due to limited manpower, animal rescue charities and voluntary groups may not always be able to respond to telephone calls, so please be patient. When calling private individuals, please consider the time when ringing! In any case, do not call the number shown unless you want to enquire about adopting the pet listed here.
Contact Tel No: None provided.