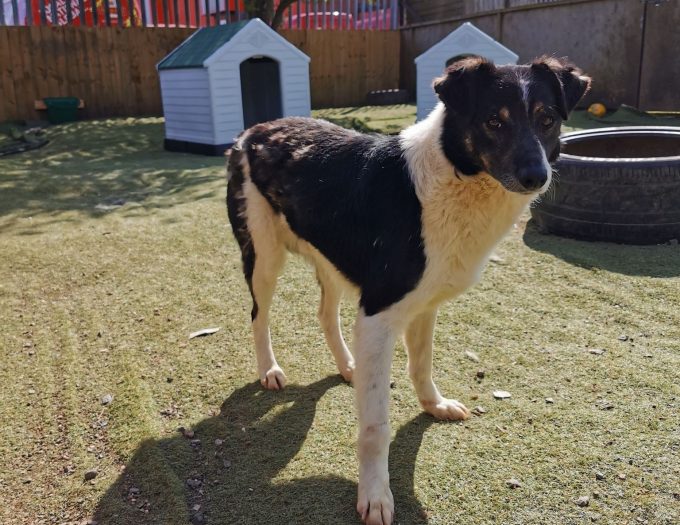 Can you adopt Jude?
Name : Jude
Breed : Medium Mixed Breed (Collie Type)
Age : 3yrs
Sex : Male
Intact : No
Town/City : Kingston upon Hull
County : East Riding
Listed by : Oakwood Dog Rescue
Information about Jude
Jude is a very timid and shy dog that needs a very patient home to take them on. When Jude arrived they were traumatized by the transport and hid away from us in fear.
Jude is a dog that will require time and patience to come out of their shell and learn to 'be a dog'. They are a project but the rewards from adopting a dog like Jude outweigh the struggles they may have at the beginning.
Jude is a dog that has never wagged their tail at us in the rescue and they have never loved a human before. When taking on a dog like Jude you become their whole world, they finally learn to trust humans and learn that not all humans are scary.
Jude cannot currently be touched at the rescue and so has never known a kind hand. The day that you can touch Jude will be an incredibly special moment for you both…
Jude is not currently lead trained as they are so frightened. Staff will advise you on how to teach them to walk on a lead when they are ready.
HOME NEEDED
Kids – over 16yrs+
Dogs – Yes
Cats – No
Fencing – 5ft minimum
If you are interested in Jude please copy the following link into your browser to learn all about adopting via Oakwood:
https://www.oakwooddogrescue.co.uk/adoptingadog.html
Location and Contact Details
If you are interested in giving a new home to Jude, please get in touch with the owners-keepers today. Pets can be listed for adoption by private individuals, animal charities or voluntary groups, and each will have different contact preferences and adoption procedures.
Depending on their preferences, the current keepers may prefer telephone or email enquiries in the first instance, or may provide an address where you can visit and see their pets and discuss adoption in person. If a telephone number or address was provided, click the 'telephone' tab and you will find it there, along with any comments on when to phone, etc. If the keepers are willing to accept email enquiries, there will be a contact form on the 'Email Enquiries' tab which you can use to get in touch.
General Information about Jude:
Current Location:
Kingston upon Hull, East Riding
Who to contact:
Jude was listed by Oakwood Dog Rescue - ask for Steph Towse - Adoption Manager
Viewing address: 17D-E Bergen Way
Note that due to limited manpower, animal rescue charities and voluntary groups may not always be able to respond to telephone calls, so please be patient. When calling private individuals, please consider the time when ringing! In any case, do not call the number shown unless you want to enquire about adopting the pet listed here.
Contact Tel No 01482823555