Toffee, South West London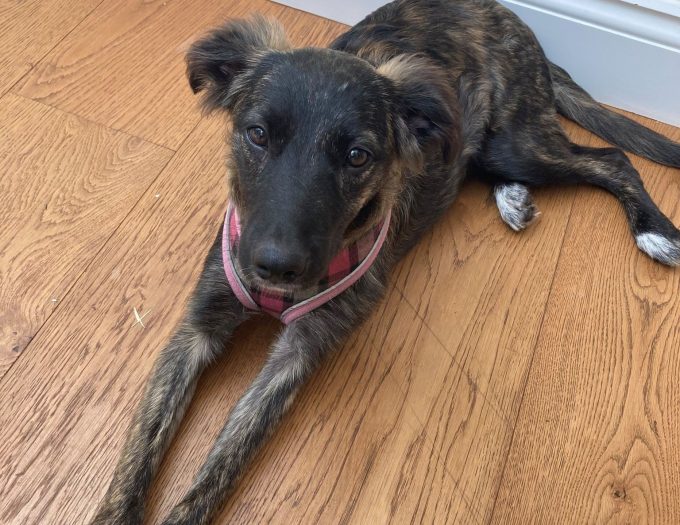 Can you adopt Toffee?
Name : Toffee
Breed : Mix Breed
Age : 5 months
Sex : Female
Intact : Yes
Town/City : South West London
County : London – Greater London
Listed by : Paws2Rescue
Information about Toffee
Name: Toffee
Gender: Female
Age: approx. 5 Months (24/05/2021)
Estimated size: Medium
History of how the dog or pup was rescued: Toffee and her siblings ( Cookie, Candy, Titiana, Biscuit and Peanut were saved after their family didn't want them anymore.
Temperament (shy/timid/playful/active/lazy): Toffee is a lovely friendly puppy.
Do they have food aggression towards people or other dogs?: No
Can they be cat tested?: Not cat tested
Do they live in a home or outdoor kennels?: Living with rescuer.
Are they better suited to a home with other dogs or as the only dog?:
Any known medical/health issues, dietary requirements, allergies that will require treatment?: No health issues
Additional Comments : Toffee would benefit from being homed with owners that have experience of large breed dogs, guardian breed dogs. They will need the time, understanding and patience to give her the life she deserves. She is a beautiful, intelligent and active girl. Toffee would prefer not to live with cats or another female dog but would be fine with a male dog. She is a little shy with men at first but loves ladies. Due to her size and temperament Toffee can only be adopted to households with children 16 years and over.
Toffee can be anxious/ nervous around some Male humans, this is something any potential adopter would need to be confident to work on. Toffee would prefer to be an only dog/pet in the home
Currently in foster in SW London
Location and Contact Details
If you are interested in giving a new home to Toffee, please get in touch with the owners-keepers today. Pets can be listed for adoption by private individuals, animal charities or voluntary groups, and each will have different contact preferences and adoption procedures.
Depending on their preferences, the current keepers may prefer telephone or email enquiries in the first instance, or may provide an address where you can visit and see their pets and discuss adoption in person. If a telephone number or address was provided, click the 'telephone' tab and you will find it there, along with any comments on when to phone, etc. If the keepers are willing to accept email enquiries, there will be a contact form on the 'Email Enquiries' tab which you can use to get in touch.
General Information about Toffee:
Current Location:
South West London, London – Greater London
Who to contact:
Toffee was listed by Paws2Rescue - ask for Alison Standbridge
Viewing address: Not given at this stage - please contact by telephone or email in the first instance.
Note that due to limited manpower, animal rescue charities and voluntary groups may not always be able to respond to telephone calls, so please be patient. When calling private individuals, please consider the time when ringing! In any case, do not call the number shown unless you want to enquire about adopting the pet listed here.
Contact Tel No: None provided.