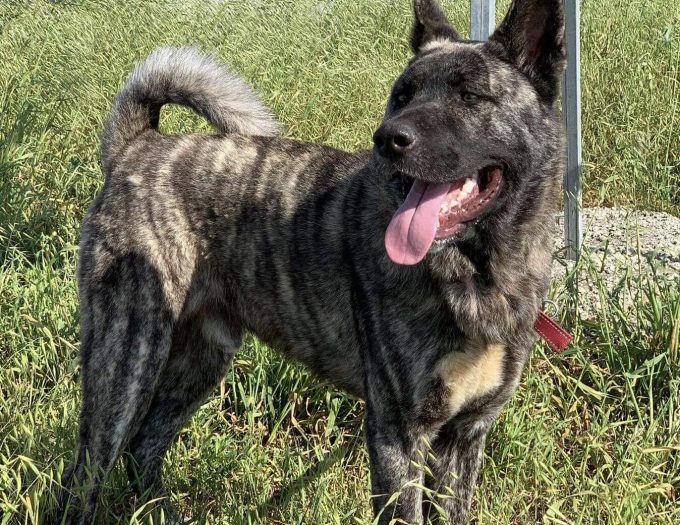 Can you adopt Zaffy?
Name : Zaffy
Breed : Akita X GSD
Age : 2.5 years
Sex : Male
Intact : No
Town/City : Rugby
County : Warwickshire
Listed by : Underdog International
Information about Zaffy
Zaffy is a beautiful Akita/German Shepherd mix originally from Cyprus who very sadly is looking for a new home. He is two and a half years old, and was originally brought into our care after he was surrendered to a local dog pound with a deep wound in his neck from being chained up for goodness knows how long. He was adopted last year and his adopter has been fantastic for him, improving his socialisation, working hard on his training and giving him nothing but love. Unfortunately though due to a change of living circumstances that didn't suit Zaffy's needs he had to make the very difficult decision to give him up. He is now currently residing in kennels in Rugby, Warwickshire, due to a lack of suitable foster homes. Any interested parties are welcome to meet him if they're interested!
Zaffy has a lot of typical Akita traits and is very much a one man dog. Whilst he's friendly with other people that he meets, he looks for direction from just one person. He is incredibly loyal and intelligent, but with equal parts complete goofball and comedian. He's very affectionate with his humans and also gets along well with other dogs, but we do advise that due to the size of his breed that his new adopters have some experience with larger, strong dogs. He could be rehomed with a couple providing they have the right experience and confidence around big breeds.
Zaffy would prefer a semi-rural home with an active lifestyle and would love access to a secure garden. He requires someone prepared to continue his training and to build a strong and trusting bond with him. He has so much love to give back to the right person, but ideally his lifestyle needs to be quiet quiet and relaxed, without too many other people coming and going. A busy family setting would not be fun for Zaffy. He'd be happiest being the apple of someone's eye, and would be best suited to a home without any other pets or children.
Although the kennels are taking great care of Zaffy and enjoying having him there, it's a shame for him to be stuck in such an environment after a year of knowing how nice it is to live in a home and enjoying lots of adventures in the countryside. He doesn't like going back into his kennel very much and winds the staff up by running away and frolicking about in the grass when play-time is over! When in a home environment Zaffy is housetrained and sleeps through the night. He also walks very well most of the time on the lead and thrives with positive reinforcement training and lots of treats! If you'd like to meet this big, lovable goon please contact eve@theunderdog.org. For more photos please visit www.theunderdog.org/adopt/zaffy.
Location and Contact Details
If you are interested in giving a new home to Zaffy, please get in touch with the owners-keepers today. Pets can be listed for adoption by private individuals, animal charities or voluntary groups, and each will have different contact preferences and adoption procedures.
Depending on their preferences, the current keepers may prefer telephone or email enquiries in the first instance, or may provide an address where you can visit and see their pets and discuss adoption in person. If a telephone number or address was provided, click the 'telephone' tab and you will find it there, along with any comments on when to phone, etc. If the keepers are willing to accept email enquiries, there will be a contact form on the 'Email Enquiries' tab which you can use to get in touch.
General Information about Zaffy:
Current Location:
Rugby, Warwickshire
Who to contact:
Zaffy was listed by Underdog International - ask for Eve Moore
Viewing address: Not given at this stage - please contact by telephone or email in the first instance.
Note that due to limited manpower, animal rescue charities and voluntary groups may not always be able to respond to telephone calls, so please be patient. When calling private individuals, please consider the time when ringing! In any case, do not call the number shown unless you want to enquire about adopting the pet listed here.
Contact Tel No 02080504292