Slipper and Bruce, Burton on trent
Can you adopt Slipper and Bruce?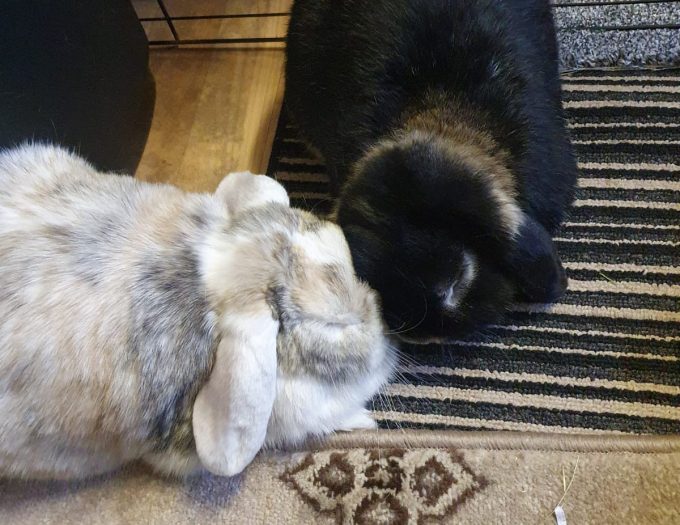 Can you adopt Slipper and Bruce?
Name : Slipper and Bruce
Breed : Lop
Age : 1 and 3
Sex : Female
Town/City : Burton on trent
County : Staffordshire
Information about Slipper and Bruce
Sex* male and female
Its with a heavy heart that I have to put my fur babies up for adoption but unfortunately my son has an allergy.
Slipper and Bruce are rescue rabbits.
They are bonded so cannot be separated, they will need to be rehomed together.
Slipper and Bruce live indoors, uncaged with free roaming of the downstairs.
Both potty trained and lovely pets.
They do go outside during the day if the weather is nice with full range of the garden with a shelterd area incase they feel they need it – they do love to go outside but feel safe indoors to sleep and rest.
Bruce is a bit shy but does enjoy a stroke and Slipper loves attention and strokes.
Slipper doesn't like to be handled much but Bruce is ok once he is in your arms.
Both vaccinated and neutered.
Both very healthy and love all the veggies and treats.
Ideally they will need to be fed what they have previously been fed with us.
They will need a home where they can play, have plenty of company (Ideally no children) and be free.
They have never been caged so I won't let them go to a home where they will sit in a cage or hutch for the remainder of their lives.
Slipper and Bruce will probably live until they are about 10 years of age so please don't adopt if your not willing to live with them for this long.
Please contact me if you are interested and willing to give them a home they need and deserve.
Location and Contact Details
If you are interested in giving a new home to Slipper and Bruce, please get in touch with the owners-keepers today. Pets can be listed for adoption by private individuals, animal charities or voluntary groups, and each will have different contact preferences and adoption procedures.
Depending on their preferences, the current keepers may prefer telephone or email enquiries in the first instance, or may provide an address where you can visit and see their pets and discuss adoption in person. If a telephone number or address was provided, click the 'telephone' tab and you will find it there, along with any comments on when to phone, etc. If the keepers are willing to accept email enquiries, there will be a contact form on the 'Email Enquiries' tab which you can use to get in touch.
General Information about Slipper and Bruce:
Current Location:
Burton on trent, Staffordshire
Who to contact:
Slipper and Bruce was listed by Joanna, a private advertiser.
Viewing address: 68 ashby road
Note that due to limited manpower, animal rescue charities and voluntary groups may not always be able to respond to telephone calls, so please be patient. When calling private individuals, please consider the time when ringing! In any case, do not call the number shown unless you want to enquire about adopting the pet listed here.
Contact Tel No 07496903737