St. Bernard Trust,
Pet Rescue and Pet Welfare Groups
St. Bernard Trust is involved with pet welfare and is always looking for people who are interested in adopting and giving new homes to pets that need rehoming. If you want to get in touch, please remember that organisations like this typically only work during office hours and may take a little time to answer emailed enquiries.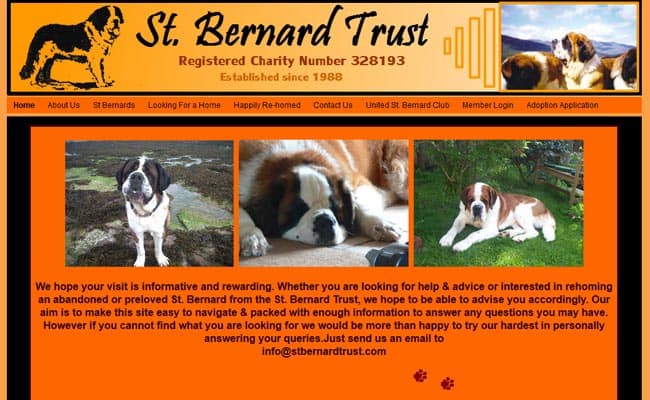 St. Bernard Trust
Pet Types :Dogs Only
Town/City :Not Specified
County :Kent
Contact Tel :01797 361 313
Website :Click to visit website
Full Address
Contact us by email or telephone in the first instance.
Information and Enquiry Form
St. Bernard Trust – The St. Bernard Trust is a registered animal welfare charity dedicated to rescuing and rehoming unwanted and often neglected St. Bernard. We work closely with our dogs in order for them to feel safe and regain trust and confidence, as well as tailoring the individual dogs needs to the prospective adopting family. The St Bernard Trust does not sell dogs, but requests an adoption fee from new owners in order to continue rescuing and rehoming. We get dogs of all backgrounds, whether they've been abandoned abused or have outgrown their welcome, and aim to find the ideal home for each individual. Re-homing a St.Bernard is very rewarding but you must be committed and adaptable to the individual dogs needs. If you're serious about re-homing a St.Bernard, please do some research to make sure they're the right breed for you and your family before thinking about applying to adopt one.
Enquiry Form
Animal Welfare Groups often have limited manpower to deal with email enquiries so please don't use this form unless you are interested in adopting a pet, would like to make an appointment to view a pet you are interested in adopting, or unless you are volunteering to help in other ways. For the same reason, some pet rescue organisations may take several days to reply, so please be patient! Thank you.