Essex House Clearances – Our Sponsors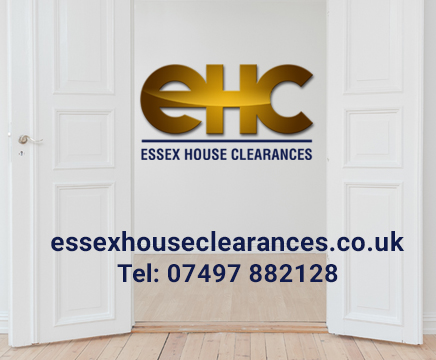 Thanks to Essex House Clearances, Adoptable remains a free website for anyone who wants to advertise a pet for adoption, whether they be a private individual or pet welfare group.
What are Essex House Clearances?
In simple terms, if you have a property that's full of unwanted items such as furniture, general household effects, clothes and things like that and need to have the property emptied to get it ready for sale, letting or occupation, Essex House Clearances will come and take it all away for you. They can empty houses, flats, bungalows, caravans, offices and even shops. Simples!
Look at a Few Examples
During a house clearance in Chelmsford in 2021, the guys needed to empty a property that had been lived in by a gentleman who had spent 30 years hoarding every newspaper, magazine and book he could find or buy. Every surface, every cupboard and every nook and cranny served as home to this massive collection, which weighed around 3 tons in total. On top of this, there was the usual furniture and other household effects that needed to be removed before the house could be sold. A pre-clearance visit was arranged to get the worst sorted and boxed, and then the following day the guys arrived to empty the house, doing it in a single day. The majority of the books were rehomed, as were some items of furniture and various appliances. The remainder was recycled.
During a house clearance in Braintree in 2022, the house needed to be stripped completely so that it could be returned to the local housing association for re-letting to a new tenant. The previous occupier had been taken to a local care home so his personal effects were sorted out and taken to his new home, and the remainder were removed from the property and taken away to be rehomed or recycled. Various bits of furniture were donated to local charities, as were other assorted small items. When surrendering a property to a local council or housing association, carpets, underlay, shelves, tenant-fitted furniture and curtains typically need to be removed, so these were also taken away.
When assessing a house clearance quote, everything that needs to be removed is assessed to see if it can be rehomed, donated or even sold, meaning as little as possible goes to waste. Having seen lists from previous house clearances it's quite surprising to see exactly what can be given a new life and what can't. Those ornaments you might class as 'tatt', toys, books, clothes and many other smaller items are automatically put aside to be sorted and most will find new homes. Beds – in particular mattresses – worn armchairs and sofas and some other items like wardrobes, on the other hand, are so little in demand that they invariably go straight to recycling.
Fully Licenced
Unlike so many operating as 'rubbish removers', Essex House Clearances are fully licenced and insured (proof is always provided) so you don't need to worry about your departed parents' belongings turning up in a random field or layby. As you'll be responsible if they do, that's important!
What area do Essex House Clearances cover?
In simple terms, they cover all of Essex and border areas of Herts and Suffolk, so includes Chelmsford, Colchester, Braintree, Witham, Brentwood, Harlow and Epping as well as South Essex, plus towns such as Sudbury, Lavenham and Haverhill in Suffolk.
So, if you need a house clearance in Chelmsford, Braintree or anywhere else in the Essex region, give our friends at Essex House Clearances a call and help support this website!
Thank you.