Leicester and Leicestershire Animal Aid Association, Leicester
Pet Rescue and Pet Welfare Groups
Leicester and Leicestershire Animal Aid Association is involved with pet welfare and is always looking for people who are interested in adopting and giving new homes to pets that need rehoming. If you want to get in touch, please remember that organisations like this typically only work during office hours and may take a little time to answer emailed enquiries.
Leicester and Leicestershire Animal Aid Association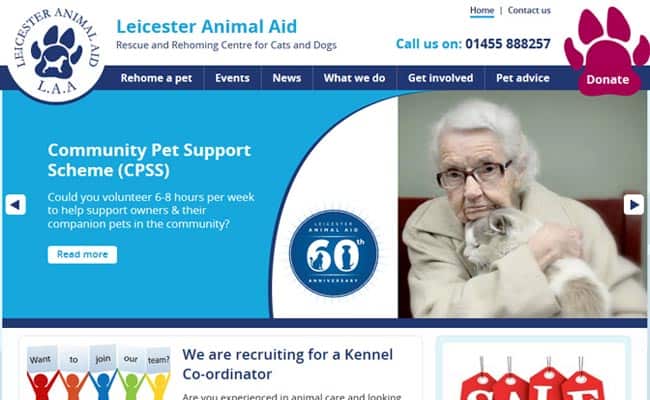 Leicester and Leicestershire Animal Aid Association
Pet Types :Many Types
Town/City :Leicester
County :Leicestershire
Contact Tel :01455 888257
Website :Click to visit website
Full Address
Elmwood Farm, Forest Rd, Leicester, Leicestershire LE9 3LE
Information and Enquiry Form
Leicester and Leicestershire Animal Aid Association, Leicester – Leicester Animal Aid is a rescue and rehoming centre for cats and dogs, based just outside of the South Leicester village of Huncote.We care for more than 500 dogs and cats every year, whether they are lost, abandoned, neglected unwanted or surrendered by their previous owners. We can provide care for up to 50 dogs and 35 cats at any one time. Each and every one receives good food, veterinary care and individual attention to help them feel secure and loved. Each dog and cat that comes through our doors is assessed by our experienced team and our goal is to ensure the right home is found for every animal, no matter how long it takes. We provide on-going guidance and practical help to both new and existing pet owners, so when you offer one of our animals a home, you can rely on us for advice for months, and even years afterwards.
Enquiry Form
Animal Welfare Groups often have limited manpower to deal with email enquiries so please don't use this form unless you are interested in adopting a pet, would like to make an appointment to view a pet you are interested in adopting, or unless you are volunteering to help in other ways. For the same reason, some pet rescue organisations may take several days to reply, so please be patient! Thank you.