Halfway Home Dog Rescue, Collingham
Pet Rescue and Pet Welfare Groups
Halfway Home Dog Rescue is involved with pet welfare and is always looking for people who are interested in adopting and giving new homes to pets that need rehoming. If you want to get in touch, please remember that organisations like this typically only work during office hours and may take a little time to answer emailed enquiries.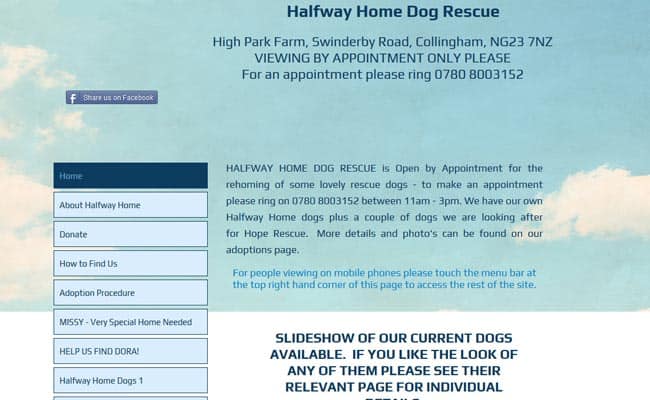 Halfway Home Dog Rescue
Pet Types :Dogs Only
Town/City :Collingham
County :Nottinghamshire
Contact Tel :07808 003152
Website :Click to visit website
Full Address
High Park Farm, Swinderby Road, Collingham, Nottinghamshire NG23 7NZ
General Information
Halfway Home Dog Rescue, Collingham – Halfway Home Dog Rescue was started in April 2005 in support of another dog rescue, to hold dogs coming from "death row" situations in northern pounds. In 2006 we started carrying out dog rehoming directly from our own kennels in Collingham, Notts. We are only a very small rescue, dedicated to helping stray and death row dogs find a new home and are always keen to hear from people interested in offering permanent homes to our dogs.
Enquiry Form
Animal Welfare Groups often have limited manpower to deal with email enquiries so please don't use this form unless you are interested in adopting a pet, would like to make an appointment to view a pet you are interested in adopting, or unless you are volunteering to help in other ways. For the same reason, some pet rescue organisations may take several days to reply, so please be patient! Thank you.
Sorry, email not available - Please contact by phone or in person.