Blue Cross Burford Rehoming Service, Burford
Pet Rescue and Pet Welfare Groups
Blue Cross Burford Rehoming Service is involved with pet welfare and is always looking for people who are interested in adopting and giving new homes to pets that need rehoming. If you want to get in touch, please remember that organisations like this typically only work during office hours and may take a little time to answer emailed enquiries.
Blue Cross Burford Rehoming Service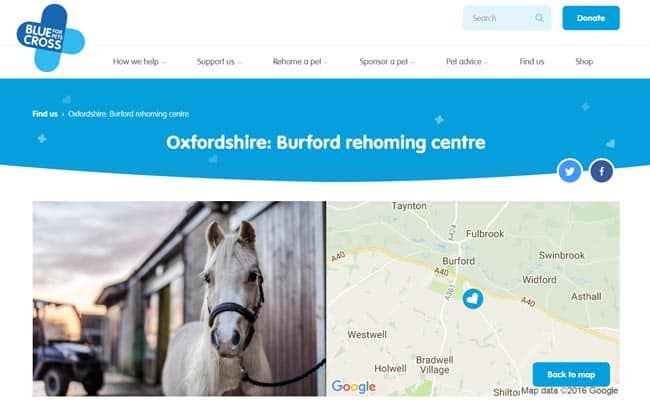 Blue Cross Burford Rehoming Service
Pet Types :Many Types
Town/City :Burford
County :Oxfordshire
Contact Tel :0300 7771570
Website :Click to visit website
Full Address
Shilton Road, Burford, OX18 4PF
Information and Enquiry Form
Blue Cross Burford Rehoming Service, Burford – The Blue Cross Burford rehoming centre, based in west Oxfordshire, always has dogs, cats, rabbits, small animals and horses looking for loving new homes. We opened in 1990 and have facilities for 25 dogs, 21 cats, 14 rabbits and other small pets. We also have numerous paddocks and stables to care for up to 60 horses. We welcome visitors to our centre however, we operate a closed kennels, cattery and stables to minimise the stress on our pets. Please call the centre so we can advise you on the rehoming process or visit our online page to view pets available for rehoming. We recommend to call ahead of your visit to avoid disappointment.
Enquiry Form
Animal Welfare Groups often have limited manpower to deal with email enquiries so please don't use this form unless you are interested in adopting a pet, would like to make an appointment to view a pet you are interested in adopting, or unless you are volunteering to help in other ways. For the same reason, some pet rescue organisations may take several days to reply, so please be patient! Thank you.