Worthing Cat Welfare Trust, Worthing
Pet Rescue and Pet Welfare Groups
Worthing Cat Welfare Trust is involved with pet welfare and is always looking for people who are interested in adopting and giving new homes to pets that need rehoming. If you want to get in touch, please remember that organisations like this typically only work during office hours and may take a little time to answer emailed enquiries.
Worthing Cat Welfare Trust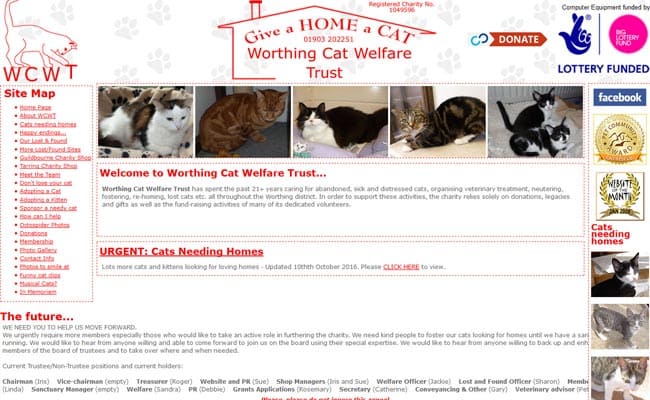 Worthing Cat Welfare Trust
Pet Types :Cats Only
Town/City :Worthing
County :West Sussex
Contact Tel :01903 202251
Website :Click to visit website
Full Address
31 South St, Worthing, West Sussex BN14 7LG
General Information
Worthing Cat Welfare Trust, Worthing – Worthing Cat Welfare Trust has spent the past 21+ years caring for abandoned, sick and distressed cats, organising veterinary treatment, neutering, fostering, re-homing, lost cats etc. all throughout the Worthing district. Our aims are to provide a safe and caring environment for abandoned, unwanted and distressed cats and kittens in the area, to arrange veterinary care and neutering, and to find loving homes for the cats wherever possible. Prior to re-homing, the cats are cared for in a number of shelters, one of which is dedicated to the 'mums and kittens', and by a number of fosterers who take them in as part of the family.
Enquiry Form
Animal Welfare Groups often have limited manpower to deal with email enquiries so please don't use this form unless you are interested in adopting a pet, would like to make an appointment to view a pet you are interested in adopting, or unless you are volunteering to help in other ways. For the same reason, some pet rescue organisations may take several days to reply, so please be patient! Thank you.
Sorry, email not available - Please contact by phone or in person.