Animal Refuge Furness, Barrow-In-Furness
Pet Rescue and Pet Welfare Groups
Animal Refuge Furness is involved with pet welfare and is always looking for people who are interested in adopting and giving new homes to pets that need rehoming. If you want to get in touch, please remember that organisations like this typically only work during office hours and may take a little time to answer emailed enquiries.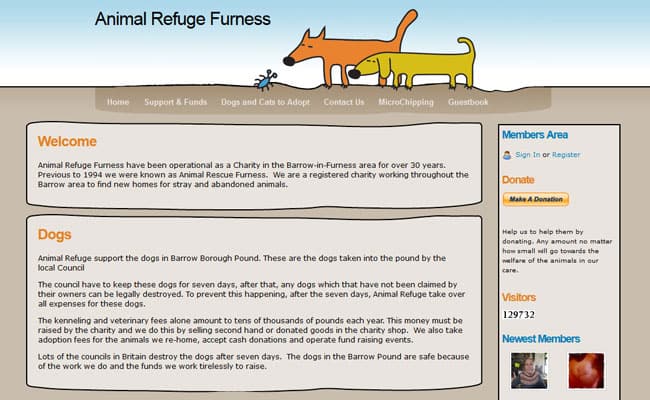 Animal Refuge Furness
Pet Types :Many Types
Town/City :Barrow-In-Furness
County :Cumbria
Contact Tel :01229 474253
Website :Click to visit website
Full Address
7 Emlyn St, Barrow-In-Furness, Cumbria LA14 1QS
Information and Enquiry Form
Animal Refuge Furness, Barrow-In-Furness – The Animal Refuge Furness has been involved with animal welfare in the Barrow-in-Furness area for over 30 years. A registered charity, we work in the Barrow area to find new homes for stray and abandoned animals. Dogs – Animal Refuge support the dogs in Barrow Borough Pound. When a dog is handed in or taken into the pound by the local Council, the council have to keep them for seven days. After that, any dogs which that have not been claimed by their owners can be legally destroyed. To stop these dogs from being killed, Animal Refuge take over all expenses for these dogs. after the first seven days. Local councils elsewhere across the UK kill thousands of dogs every year Cats – We also have plenty of cats in our care waiting for a new home. Some have been here for years. You can meet them here. If you can help in any way our animals will be very grateful.
Enquiry Form
Animal Welfare Groups often have limited manpower to deal with email enquiries so please don't use this form unless you are interested in adopting a pet, would like to make an appointment to view a pet you are interested in adopting, or unless you are volunteering to help in other ways. For the same reason, some pet rescue organisations may take several days to reply, so please be patient! Thank you.