Stray Aid, Durham
Pet Rescue and Pet Welfare Groups
Stray Aid is involved with pet welfare and is always looking for people who are interested in adopting and giving new homes to pets that need rehoming. If you want to get in touch, please remember that organisations like this typically only work during office hours and may take a little time to answer emailed enquiries.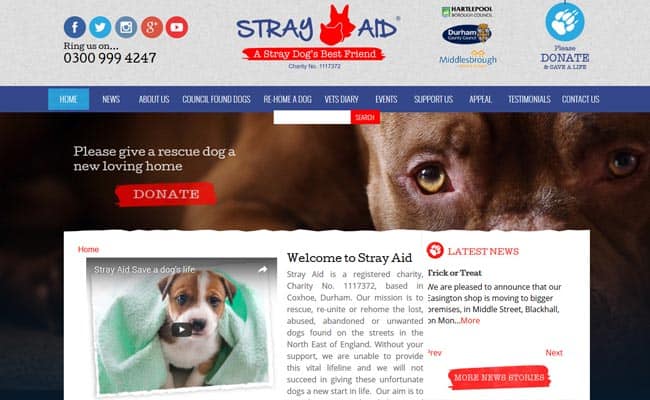 Stray Aid
Pet Types :Dogs Only
Town/City :Durham
County :Durham
Contact Tel :0300 999 4247
Website :Click to visit website
Full Address
East Pasture Farm Cornforth Lane, Durham, DH6 4EJ
General Information
Stray Aid, Durham – Stray Aid is a registered charity based in Coxhoe, Durham whose aim is to rescue, re-unite or rehome the lost, abused, abandoned or unwanted dogs found on the streets in the North East of England. We provide practical help and information on stray, lost or abandoned dogs and cats across County Durham, Hartlepool and Middlesbrough. Our Help Desk is open 8am-9pm seven days a week.
Opening Hours
The Stray Aid Rehoming Centre, Coxhoe is open 10am - 4pm Wednesday-Monday, and from 1st January 2016 we are closed on Tuesdays for staff and volunteer training. The dogs are not available for viewing after 4pm.
Enquiry Form
Animal Welfare Groups often have limited manpower to deal with email enquiries so please don't use this form unless you are interested in adopting a pet, would like to make an appointment to view a pet you are interested in adopting, or unless you are volunteering to help in other ways. For the same reason, some pet rescue organisations may take several days to reply, so please be patient! Thank you.
Sorry, email not available - Please contact by phone or in person.