Cats Protection National Cat Centre, Haywards Heath
Pet Rescue and Pet Welfare Groups
Cats Protection National Cat Centre is involved with pet welfare and is always looking for people who are interested in adopting and giving new homes to pets that need rehoming. If you want to get in touch, please remember that organisations like this typically only work during office hours and may take a little time to answer emailed enquiries.
Cats Protection National Cat Centre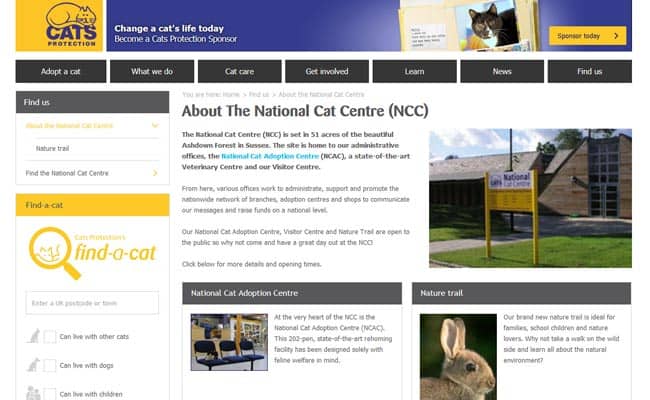 Cats Protection National Cat Centre
Pet Types :Cats Only
Town/City :Haywards Heath
County :East Sussex
Contact Tel :01825 741 330
Website :Click to visit website
Full Address
National Cat Centre, Chelwood Gate, Haywards Heath, East Sussex RH17 7TT
General Information
Cats Protection National Cat Centre, Haywards Heath – The Cats Protection National Cat Centre is based the Ashdown Forest in Sussex. In addition to our administrative offices, the site contains the National Cat Adoption Centre, a state-of-the-art Veterinary Centre and our Visitor Centre. It is the UK's largest cat rehoming centre. If you are looking to home a cat, we can help you choose one that is best suited to your home. Visitors to our centre in Chelwood Gate can meet our feline residents waiting for their forever homes and talk to our dedicated staff about cats in our care.
Opening Hours
The Centre is open daily from 10am-4pm, with last adoption viewings at 3:30pm.
Enquiry Form
Animal Welfare Groups often have limited manpower to deal with email enquiries so please don't use this form unless you are interested in adopting a pet, would like to make an appointment to view a pet you are interested in adopting, or unless you are volunteering to help in other ways. For the same reason, some pet rescue organisations may take several days to reply, so please be patient! Thank you.
Sorry, email not available - Please contact by phone or in person.