Binfield Dog Rescue, Wokingham
Pet Rescue and Pet Welfare Groups
Binfield Dog Rescue is involved with pet welfare and is always looking for people who are interested in adopting and giving new homes to pets that need rehoming. If you want to get in touch, please remember that organisations like this typically only work during office hours and may take a little time to answer emailed enquiries.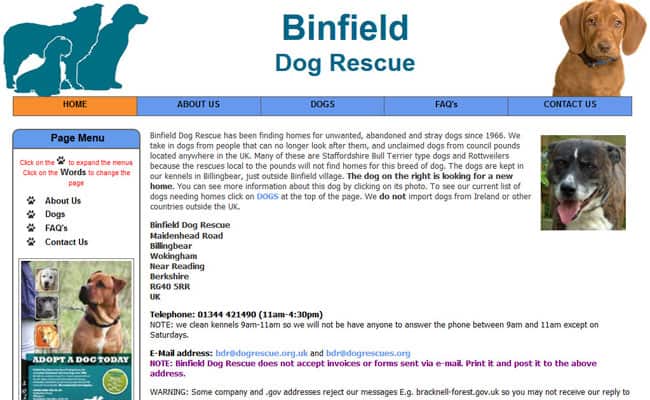 Binfield Dog Rescue
Pet Types :Dogs Only
Town/City :Wokingham
County :Berkshire
Contact Tel :01344 421490
Website :Click to visit website
Full Address
Maidenhead Road, Billingbear, Wokingham, Berkshire RG40 5RR
Information and Enquiry Form
Binfield Dog Rescue, Wokingham – The Binfield Dog Rescue in Wokingham has been rehoming unwanted, abandoned and stray dogs in Berkshire for 50 years. We provide homes for dogs whose previous owners are unable to keep them and unclaimed dogs from council pounds across the UK. Many of the dogs we take in are Staffordshire Bull Terriers and Rottweilers, often because other rescues choose not to try to rehome these breeds. All our dogs are from the UK and we do import dogs from Ireland or other countries outside the UK.
Opening Hours
Monday - Friday 1pm - 4:30pm, Saturday 9am - 4:30pm, Sunday 9am - 4pm
Enquiry Form
Animal Welfare Groups often have limited manpower to deal with email enquiries so please don't use this form unless you are interested in adopting a pet, would like to make an appointment to view a pet you are interested in adopting, or unless you are volunteering to help in other ways. For the same reason, some pet rescue organisations may take several days to reply, so please be patient! Thank you.