Foal Farm Rescue Centre, Biggin Hill
Pet Rescue and Pet Welfare Groups
Foal Farm Rescue Centre is involved with pet welfare and is always looking for people who are interested in adopting and giving new homes to pets that need rehoming. If you want to get in touch, please remember that organisations like this typically only work during office hours and may take a little time to answer emailed enquiries.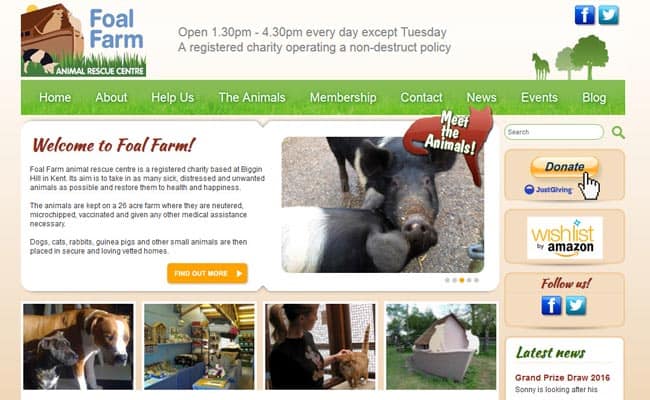 Foal Farm Rescue Centre
Pet Types :Many Types
Town/City :Biggin Hill
County :Kent
Contact Tel :01959 572386
Website :Click to visit website
Full Address
Jail Lane, Biggin Hill, Kent TN16 3AX
Information and Enquiry Form
Foal Farm Rescue Centre, Biggin Hill – Foal Farm animal rescue centre is a registered charity based at Biggin Hill in Kent. Its aim is to take in as many sick, distressed and unwanted animals as possible and restore them to health and happiness. The animals are kept on a 26 acre farm where they are neutered, microchipped, vaccinated and given any other medical assistance necessary. Dogs, cats, rabbits, guinea pigs and other small animals are then placed in secure and loving vetted homes.
Opening Hours
We are open 1.30pm – 4.30pm every day, except Tuesday
Enquiry Form
Animal Welfare Groups often have limited manpower to deal with email enquiries so please don't use this form unless you are interested in adopting a pet, would like to make an appointment to view a pet you are interested in adopting, or unless you are volunteering to help in other ways. For the same reason, some pet rescue organisations may take several days to reply, so please be patient! Thank you.